1551 Views
Yields:

12 Servings
Difficulty:

Easy
These healthy chocolate chip pumpkin muf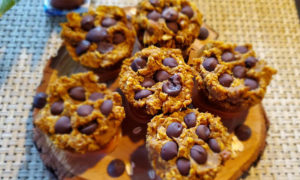 fins are perfect for late summer, fall or ANYTIME the pumpkin cravings set in. They contain NO flour or refined sugar. The sweetness comes from pure maple syrup. There are many health benefits to maple sugar that I have linked at the bottom for additional reading.
My husband has NEVER liked anything pumpkin until these muffins. Now he looks forward to every time I make them. Of course he still doesn't like to freely admit he's a pumpkin fan, there is no hiding it when these muffins come out of the oven and he is willing to be the first taste tester.
Another favorite muffin of his (and mine) is the Healthy Carrot Cake Muffins that are very similar to carrot cake but in a muffin format. A common ingredient to both the healthy chocolate chip pumpkin muffins and the carrot cake muffins is our homemade vanilla extract that I LOVE. The taste is incredible and the aroma is amazing. My husband makes our own vanilla from vanilla beans from Mexico, Madagascar and Tahiti from premium vanilla beans purchased from Beanilla . Not only do they offer premium vanilla beans, they are also a wonderful small Midwest business we like to support.
Chocolate Chips: We prefer dark chocolate in our house but milk chocolate could be substituted. We use and recommend 60% Cocoa Bittersweet Chips which can be found and ordered through Ghiradelli. Not a huge chocolate fan? No problem. You can omit the chocolate chips and enjoy these healthy pumpkin muffins sans the chocolate.
Optional mix-ins: walnuts, pecans, white chocolate chips (on top) and cocoa nibs.
How to best keep the muffins: I store our muffins on the kitchen counter away from heat for up to 3 days or in my refrigerator for up to a week. These also freeze well if they are in an airtight container for up to three months.
Interested in learning more about the health benefits of pure maple syrup? Check out this article from the Food Network – Pour it On! Maple Syrup is Good for You by Kiri Tannenbaum
Preheat oven to 350 degrees and line 12 muffin tins with paper liners. You do not have to spray the liners as the muffins will pop right out after they are finished cooling.

1. Mix ingredients well with wooden spoon.

2. Drop by the spoonful into lined muffin cups so that the clump is at the top of the muffin cup.

3. Do not push down or overfill the muffin liner. Leave them clumpy. This will add character to the muffin.

4. Bake at 350 degrees for 20 minutes.

5. Let cool in pan for a few minutes prior to moving onto a wire rack to continue to cool.

Enjoy! These are amazing warm out of the oven or chilled fresh out of the refrigerator.