1368 Views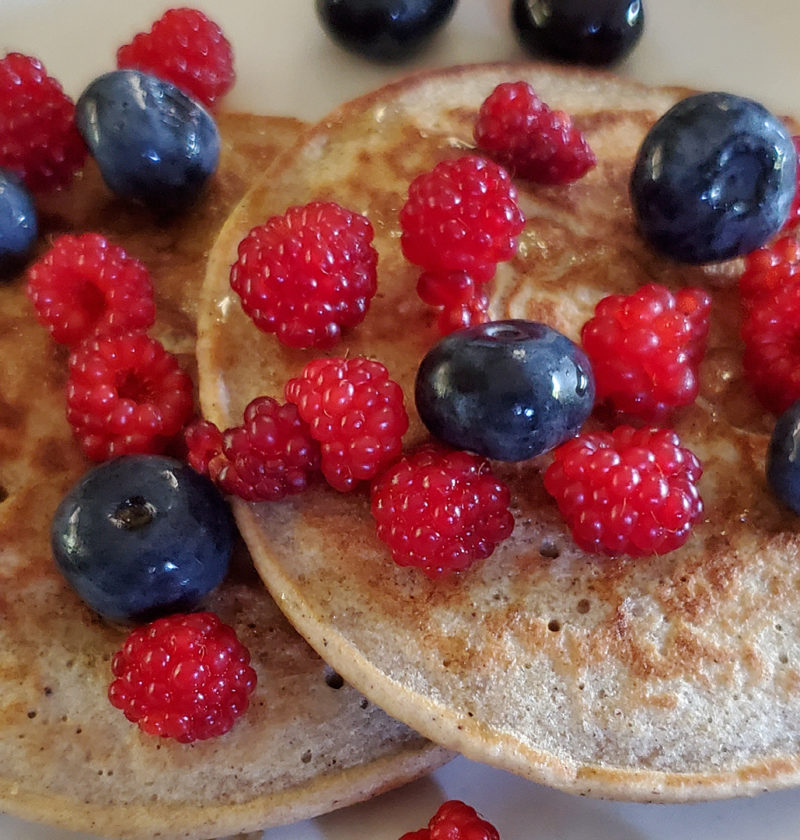 Healthy Oatmeal Banana Pancakes
Pancakes! Who doesn't LOVE pancakes? For me, pancakes are a great comfort food. There is nothing better than a delicious than a stack of yummy pancakes. These healthy oatmeal banana pancakes contain healthy carbs to start your day off right. The ingredients are also simple and clean so you can enjoy them knowing they do not contain unhealthy ingredients that many boxed mixes may contain.
These healthy pancakes are also husband approved! They are filling, delicious and healthy.
For the oats, I use Bob's Organic Red Mill Old Fashioned Oats which are healthy and after researching more on the soil used by manufacturers of oats, I also trust the safety of Bob's (for additional information on toxicities in soil, see Environmental Working Groups article Breakfast With a Dose of Round-Up.
Toppings
These pancakes are amazing as is but if you like a little something on top there are endless possibilities. In the summer, my favorite toppings are mixed berries, peaches or nectarines. During fall I enjoy a bit of apple pieces with cinnamon. In the winter I love pomegranate seeds or banana slices. Any time of the year I enjoy 100% Pure Maple Syrup. If you are a chocolate lover, you could add chocolate shavings or chips to the top. For peanut butter lovers, add a bit of warm peanut butter.
Though these pancakes are easy and quick to make, there are days when you just don't feel like making something. This is where leftovers come in. I recommend making extra to freeze and enjoy later.  Just be sure to seal these in a freezer safe bag (I like to seal the bag almost all the way closed, then insert a straw into the top to suck out extra air before sealing). Anyway you "stack it," these pancakes are a win.
Note – If you enjoy healthy treats, I also recommend my Healthy Carrot Cake Muffins
Heat nonstick skillet over medium-low heat.

Add ingredients into blender. Blend until a batter consistency.

Pour appx 1/4 cup mixture onto preheated skillet. When bubbles form and the edges begin to form, flip with pancake turner.

Cook approximately 2 more minutes.

Serve with fresh berries.
Notes
Optional toppings: Blueberries, Blackberries, Raspberries, Strawberries, Pomegranate, Coconut Whipped Cream, Pure Maple Syrup