1539 Views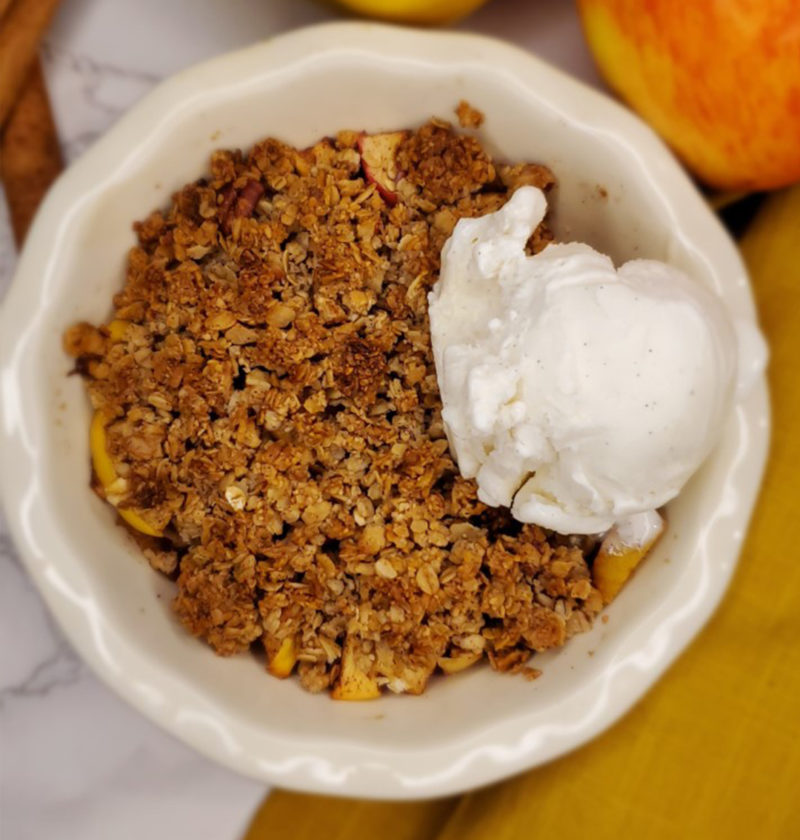 Healthy Apple Crisp
I love the aroma of apples baking. It is comforting, relaxing and brings me joy! It is a smell I wish I could bottle up and use it during stressful times.  I enjoy this healthy apple crisp all year long but especially in the autumn when it's apple season.
My husband has always enjoyed warm apple pie.  Apple pie is delicious. I love it to! But I wanted a healthy alternative that still offered all of the goodness without unnecessary fillers. After a bit of trial and error, born was the healthy apple crisp that has become a favorite of ours!
White Flour & Refined Sugar FREE!
Some things we try to "limit" are white flour and refined sugar. Notice how I didn't say "avoid" but limit. We do our best to live a healthy lifestyle which eating healthy is a large part of. We also realize that there will be times when a slice of apple pie with white flour and refined sugars is something that we will still eat, enjoy and appreciate at times. But we try to "limit" those times to an occasional piece.
For this recipe, I use blanched almond flour instead of white flour and use 100% pure maple syrup instead of refined sugars. I am a Costco member and love using many of their Kirkland products including the 100% pure maple syrup which can be viewed HERE
This healthy apple crisp is great with a dollop of coconut whipped cream (my fav), Greek yogurt or vanilla ice cream.
If you enjoy healthy desserts like we do, I would highly recommend my chocolate chia pudding which is both easy and healthy. The chia seed pudding is also high in fiber (BONUS) if you need to increase your fiber intake. One batch of chocolate chia pudding makes four decent sized servings which lasts us two evenings. We have this pudding at least four nights a week.
Adjust Servings
Apple Mixture

Oat/Pecan Topping
Apple Mixture

Combine maple syrup with lemon juice and diced apples.

Oat/Pecan Topping

In a separate bowl, combine maple syrup for the topping with the melted coconut oil. Add in the oats, almond flour cinnamon and pecans.

Divide the apple mixture into small pie dishes, ramekins or any oven safe dish.

Add the topping to the apple mixture.

Let sit for around ten minutes to cool. Enjoy!